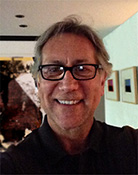 I shoot a number of shots of the subject and these images serve as references during the process of translating my vision to the canvas. I make a few drawings in preparation for my paintings. I like to try new techniques and styles, mixing various media to create new colors and textures.The paintings are created using the photos and multiple layers of acrylic paint. Most paintings combine aspects from several photographs. I modify the color and lighting but rely othe photos for texture and detail. As a result, each piece evolves and changes from the first stroke to the last. Depending on my mood and inspirations, my style can change from day to day ranging from traditional to modern, but always characterized by vivid color and powerful composition. I challenge myself on each new piece as I work at a discipline I find stimulating and fulfilling.
These are original limited edition pieces, signed and numbered by the artist on 100% cotton canvas or heavy-weight UV protected watercolor paper. Image size is 2" from the trim, allowing for matting and framing.
Michael Giliberti majored in Illustration at Parsons School of Design in New York City and UCLA and printmaking at Otis College of Art and Design in Los Angeles California. Prior to committing full time to his painting and printmaking, Giliberti enjoyed a successful career as a creative director in corporate advertising. It was his interest in and exposure to photography, combined with his training as an artist, that formed the basis of his creative process. Giliberti is a multi-dimensional artist and uses all media for his creative expression. He works in acrylics, oils, crayons, watercolors, collage, ink, and silkscreen. His work is currently on exhibit in galleries, corporate environments, and private collections in California, New York, and abroad.